Takom build so far
Well I ended up closing up the turret without cutting out the top. I experimented with the Zvezda Panzer IV which is still unfinished, but ended up deciding against a half-attempt of a cutaway.
I used Meng's zimmerit decal set for the Meng kit – it fit more or less. (There are some differences between the dimensions of the two Panther kits – I have no clue which one is more accurate.) The decal is really fragile, and handling it is a pain, but at least it looks like some realistic heavy damage when breaks… If you know what is good for you, you use white glue to fix it to the model because using CA it is a hell to apply and adjust.
The hull was also closed up, and we are ready for masking and the paintjob… now it is only a matter of time to finish this bad boy. The only issue I have is that I can't seem to find all the tracks I have built for it…
The plan is to build this Panther in Soviet colors. Since the Soviets used captured Panthers, I decided to give this model an unique twist. (Originally I planned to paint it in Bovingdon-colors.)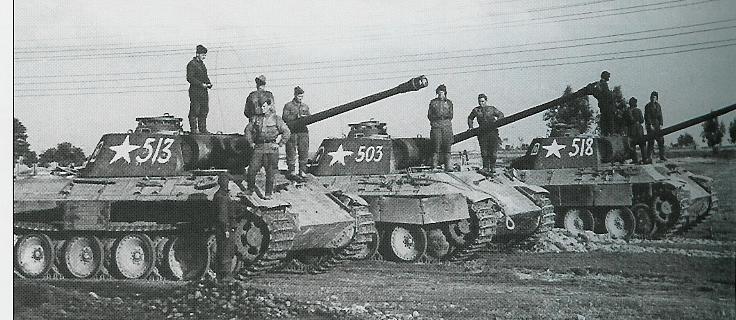 (The RFM Panther will be an example used by the French – after all they were the longest operators of the type, and I have not seen many models depicting a French Panther.)
The hull was sprayed using Mig's Dunkelgelb colors (they carry two shades; I used a mixture of both as I found one of them too yellow, the other too light; using both also allows you to create shades and hues), and the turret was painted using one of AK's Russian green color. I did make a mistake, and used a post-war, 1947 era color… not that it matters a lot -when it comes to Russian green, any green will do, as we know. The star and number was painted by hand- somewhat intentionally clumsy as on the photos you can clearly see a similar sloppiness in their application.
I also finished the engines – the RFM one will be installed, but I decided to close down the Takom hull without the engine. It would not be visible through the maintenance hatch, anyhow, and will use it for the Jagdpanther I still have on my shelf. The engine will be quite hidden in the RFM models as well, so I did not spend too much time detailing and painting it. (It is the more detailed of the two, truth be told, but they both are great.)
That is it for now. There is still a lot to do, but it is getting finished finally