Well, I have not used either of these brands of paint before, so I was curious how they work.
MRP
After some serious shaking, the results were less than stellar, as you can see.
However, I was unperturbed and undeterred, since the reviews were generally good, and people tend to like this brand a lot. Not to mention my experience with AK's primer taught me something important: if you think you have shaken it up, shake it some more…
So that is what I did. I bought a nail polish shaker, and used that for a minute to mix up the paint.
The results were great. The paint sprayed very nice straight from the bottle. (I painted up the leftover hatches and whatnot from the Takom Panther and the bottom of a leftover hull for the purpose of this post.)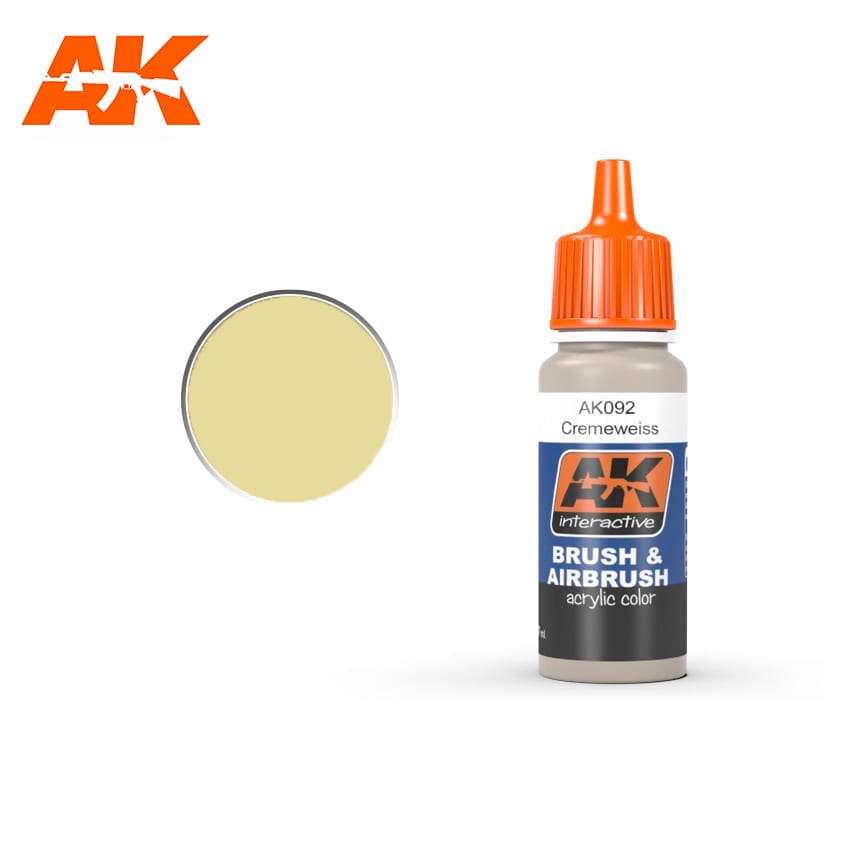 To quickly do a side-by-side color comparison, I sprayed AK's cremeweiss and the MRP cream next to each other onto a panzer IV hull . The AK paint is really nice, and as this paint is not pre-thinned for airbrush, so some water was necessary. (I have been using this paint as a base color for the Panther interiors, so I did have some experience using it.)
As you can see the AK paint has a more yellowish hue, while the MRP paint is more off-white. I am not sure which one should be used for German interiors. As you can see from the photos of the Tiger 131 restoration, the color is a somewhat yellowish/brownish white, but not as white as the MRP one, and not as yellow as the AK one. (And then there is the million-dollar question about the accuracy of the paint colors the restaurators used…)
I suspect, considering the scale effect, the real color is somewhere between the two; the AK paint is way too yellow in 1/35 scale. It is probably spot on if you put it next to the real vehicle, but with the scale effect considered, it is too dark and too yellow – some lightening with white is required for sure. (Which is something people usually do anyhow, since most paints need to be adjusted for the scale effect.)
Regardless, both paints are great. They spray great, they cover well, which is a big thing when you are discussing whites, and I found no problems using them. Overall I will be happy to buy from either of these paint ranges in the future. I am quite set on Tamiya right now, as experiments with other brands left me sticking with what worked before. Now I am a bit more open for trying more brands.