So. AK Interactive's Still Water.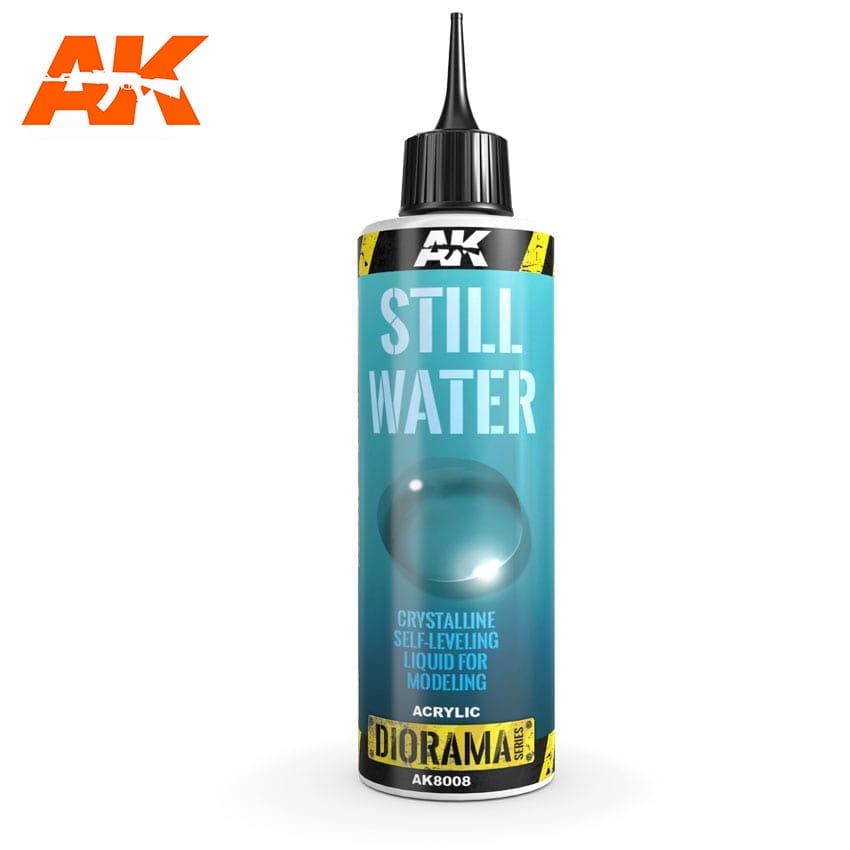 This thing.
The AK Interactive webpage has the following to say about it (bold mine):
Still Water is a liquid crystalline product specially designed to reproduce the effect of clear still water on dioramas and vignettes. Still Water is self-leveling and capable of flowing over uneven surfaces; apply thin layers, no more than 3 mm at a time. If depth is desired, build up thin layers. When applied on non-porous surfaces, such as glass, this product can be lifted and cut to desired shape. High quality acrylic product.
This product can be tinted with acrylics offering many possibilities. No toxic
Let's see. I did not try to eat it, so I can't comment on toxicity. It does stay crystal clear after hardening, which is great, and according to the description. Let's see how the other properties function.
Coming out of the bottle it is relatively thick, yet it flows very easily out of the tip; be careful not to flood the surface.
NOTE: my aim was not to recreate a large body of water, such as a stream, river or lake in a diorama setting. That will be the topic of a separate post. I wanted to depict stagnant pools of water, either collected on abandoned vehicles, or puddles on the ground. I took a look at this product through this lens, which obviously colors my perceptions of it, however, the points about its properties are valid in any settings.
I took out two dioramas: the STALKER one with the T-62, and the Zrinyi II. I wanted to add water to both, which was the main reason buying this product. The non-toxicity and water solubility was the selling point.
I added small puddles under road wheels, in crevices on the ground, on the surface of the T-62 wreck. The product came out thick -it kept the convex, bulging form of a liquid with very high surface tension; it did not spread easily, even when encouraged with a brush. This made it extremely difficult to apply in thin coats, as the instructions suggested; the product does not spread easy. I thought the self-levelling part comes when it cures.
After hardening, I found that it did not self-level in the was I was expecting it to. The surface was not level in most cases -only where the product was applied in a thick layer.
The importance of surface
The nature of the groundwork was also extremely important: for the Zrinyi I used actual soil/mud hardened with plaster. This surface was torn up by the product, as it shiveled (dried) out, the edges curling upwards, tearing the water product away from the surface.
Not ideal.
The T-62 diorama was done using only Tamiya textured material for ground mixed with pigments; it served as a much better basis for the water effect. The product could not peel off the surface while it was curing. Apparently you need a strong bond between the particles of the groundwork for the product to stick to, otherwise as it cures, it will shrink on its surface, and this will peel off the whole thing.
Lesson one learned.
Self-levelling
How about being self-levelling? (Also a big must.)
Well, not exactly self levelling. When fresh, the product behaves as a liquid with a high surface tension. It does not spread out, as a liquid resin would, but it forms smaller or bigger blobs, droplets, like a somewhat thick soup would. You can help spreading it with a brush, but it has its limits, since it does not "wet" the surface it touches easily (due to the high surface tension).
This is how it looks when fresh and after curing.
As the product cures it flattens out, but it also has the tendency to wrinkle, and to follow all the irregularities underneath – so at the end you get an uneven surface. It simply cures onto the surface underneath in an even thickness. Applying multiple layers will not solve this problem: you simply increase the thickness of the product, you do not even the surface out. I wanted to put puddles onto the mud guards and the splash guard (the spillway being blocked by detritus), but as you can see regardless of applying the product in several thin(ish) layers, it refused to form a nice, even surface over the model. The leaves and other surface irregularities show through even after four layers. It looks a bit like water in the process of being frozen…
Weirdly I found bubbles that were present within the cured product, even though there were none when I applied them -or at least none visible. The high surface tension means that if you manage to trap air inside, or worse yet, manage to foam it up, it will not be able to escape. So be warned.
Dilution
OK, so it does not spread well, even when helped with a brush. What happens if you use some water and a brush? (Genius idea, eh?) So apply a generous amount of product on the groundwork, and add some water (about 1/10th of volume). It did make the product easier to spread. It did not foam so easily. But come next day, and…
…this is what happens: it becomes milky. The surface kind of looks like if it was mud saturated with water (which is nice), but the effect is not perfect, and the milky discoloration is very much not welcome. This also underlines the issue of tinting. The manual says you can tint this product with acrylics, but there is a limit of how much you can add.
Mixing with inks/paints/pigments
Since it is water soluble, it is a quite simple matter of mixing inks or water-based paints into the product. I used chestnut ink by citadell, since it was brown -although not exactly mud-brown, as we can see. It is for experimenting, anyhow; I wanted to see what it does when mixed with color -and perhaps salvage the foggy water effect on the Zrinyi diorama. I also applied a few drops onto the base of a space marine figure to see how it looks as a puddle. Without any staining the water effects did not show up very well; it merely looked like if the ground was shinier in patches.
With staining, it still formed an uneven, shiny surface after curing. (The first photo shows how it looks like fresh when applied.) I added three drops of ink – in retrospect it was too much. It might have given a more realistic result had I added only half a drop, instead of creating a chestnut colored slurry.
On the Zrinyi it may not have levelled the surface out, but on the bright side, it did look like fresh -and somewhat weird colored – mud. Success – I guess?
So what happens when I add pigments instead?
Well, it kind of looks as churned-up mud. The chestnut colored mud underneath even gives a slight color modification wherever the new mixture was thinner, giving it an actually quite pleasing looking mud effect. Overall, it looks like water-saturated, churned up mud that would suck you in if you stepped into it. I would call it success, although it was not the effect I was going for. (I wanted big puddles of brown water.)
Special effects
Let's see if we can make radioactive sludge, lava or something similar out of this thing…
To make radioactive industrial waste, we just add a little bright, light green paint. Applied to the base of a few miniatures, the effect is actually quite nice, both applied thick (into the crevice of the base of the daemonhost), or thin – to the ground next to the boots of our Thousand Sons terminator. As an added effect I also put some more on top stained with a tiny bit of yellow ink. I have to say it is a pretty good effect.
The lava is a different matter. I added red ink to the product, and it formed a somewhat blood-looking pool at the foot of our Rubric Marine… so blood it is.
What happens if you prepare two different colors, and carefully blend them into each other? I can't show the results, because I placed -rather carelessly- the instructions of the Armory Walker Bulldog I was building into the mix, but placing drops of the two colors next to each other to allow them to mix, resulted in, well, the two liquids mixing together completetly. I was hoping to create nice swirls and whatnot, but the liquid flows easily enough for it to mix completely.
Possible ways to use it
Well, small puddles on miniature bases were kind of successful. Without coloring it looks just shiny, somewhat inconspicuous. (It is difficult to see what the intended effect is if the product is not colored.) With some ink mixed in, even with a somewhat unrealistic color, it looks better -not as a puddle of water, but as a puddle of some sort of thick liquid. The issues with self-levelling are not as apparent in small scale.
If the base was suitable it produced a somewhat convincing effect, although it is visibly not level…  You need a flat surface to create large puddles to begin with. (The track-marks on the Zrinyi actually have somewhat convincing puddles.) Creating larger bodies of water were so far not successful, and neither was creating a smooth surface over an uneven base. One thing to note: once the product cures, you should stain the surrounding groundwork with a darker brownish color to represent the wet ground around the water.
You may be more successful applying the product to wet surfaces -although the groundwork, as we have seen- must be very well bonded, so you cannot apply it while the groundwork is still hardening. (It would make it simpler if you could just add the puddles at the same time as you build up the terrain.) As it is, if you pre-wet the surface, it might be possible to spread it more evenly.
Probably in dioramas, where you prepare a hard and even surface specifically for the water, it would work well (in a relatively thin layer) as the surface of a lake – we will see when I get around making a crashed Schwimmwagen diorama I have been planning a while now. For those ad hoc puddles I was trying to create it is less than perfect.
In short: it does not work the same way as the non-water soluble resins do: these resins do not lose their volume during the curing process, and they do tend to float easily, with very little surface tension, which makes them very effective in creating level, smooth surfaces. This product does shrink while curing, and it forms an evenly distributed layer over the surface it is applied to- meaning that any irregularities below will show up on the surface. In other words this product has a learning curve – a lot of experimentation is needed. The upside is the non-toxicity. (The resins, on the other hand, give off heat while curing, so they can actually melt the plastic if you apply it too thick, plus they are toxic as hell.)
Mixing in pigments, and applying it to an uneven surface will result in a very convincing, extremely wet-looking surface – just make sure you use multiple layers and multiple colors. For fresh mud, it is excellent. For bodies of water -not so much. 
Overall, it will not be the go-to solution for all your water needs, even though the non-toxicitiy and the ease of use makes it sound very attractive. It is absolutely true further experimentations will be required to master this product. I am planning to use it in a crashed schwimmwagen diorama to see how I can use it to form larger surfaces of water; I'll post the results.
I think as with some other weathering products, the water solubility is its biggest weakness – the surface tension simply does not allow it to spread as easy. I found the liquid resin products (which are not water soluable) give  much better coverage, and they are actually self-levelling –  and as mentioned also highly toxic, and give out noxious fumes. Difficult choices -or perhaps not. Personally I would choose the non-toxic version even if I have to work harder to get a comparable result.