This is one character who started out as a gigantic tosser, and ended up being an ever bigger one. With the Heresy what is most interesting is to see what drives people to turn against the Imperium. Sometimes these choices are agonizing for the characters who make them; and you cannot really help but feel sympathy towards them, even after they become a twisted caricature of their former self. (Think about Lorgar himself; or Khran, who already was featured here.)
Thypon (or later known as Thypus) has, however, never been a nice person. Always arrogant, always sneering, always self-righteous; it's hard to find anything likeable about the guy. (He does sport some amazing beard, though.) Let's face it, he is somewhat of a one-dimensional anti-hero.
Nevertheless, the Forgeworld figure is just incredibly good-looking. The heavy stride of someone in heavy a Terminator armour captured incredibly well. You can hear the footsteps, you can feel the tremor of the earth, and you can clearly see that this armour was not designed to be jogging in it. It also looks pretty realistic; my biggest issue with older iterations of Terminator armours is that they look unwieldy; just look at an old Games Workshop Abaddon figure to see what I mean. He literally is forced to keep his arms up in a threatening pose, because he cannot physically bring them lower towards his torso. (Which is good if you want to threaten someone, but bad, if you want to actually do anything else. Like moving.) The new Forgeworld Terminator figures -while it's clear that the wearer will not do splits in them any time soon- look more realistic as power armours go.
The kit is also a good starting point for the character himself. This is the original state from which he got corrupted into a plague Marine, harbinger of disease and corruption.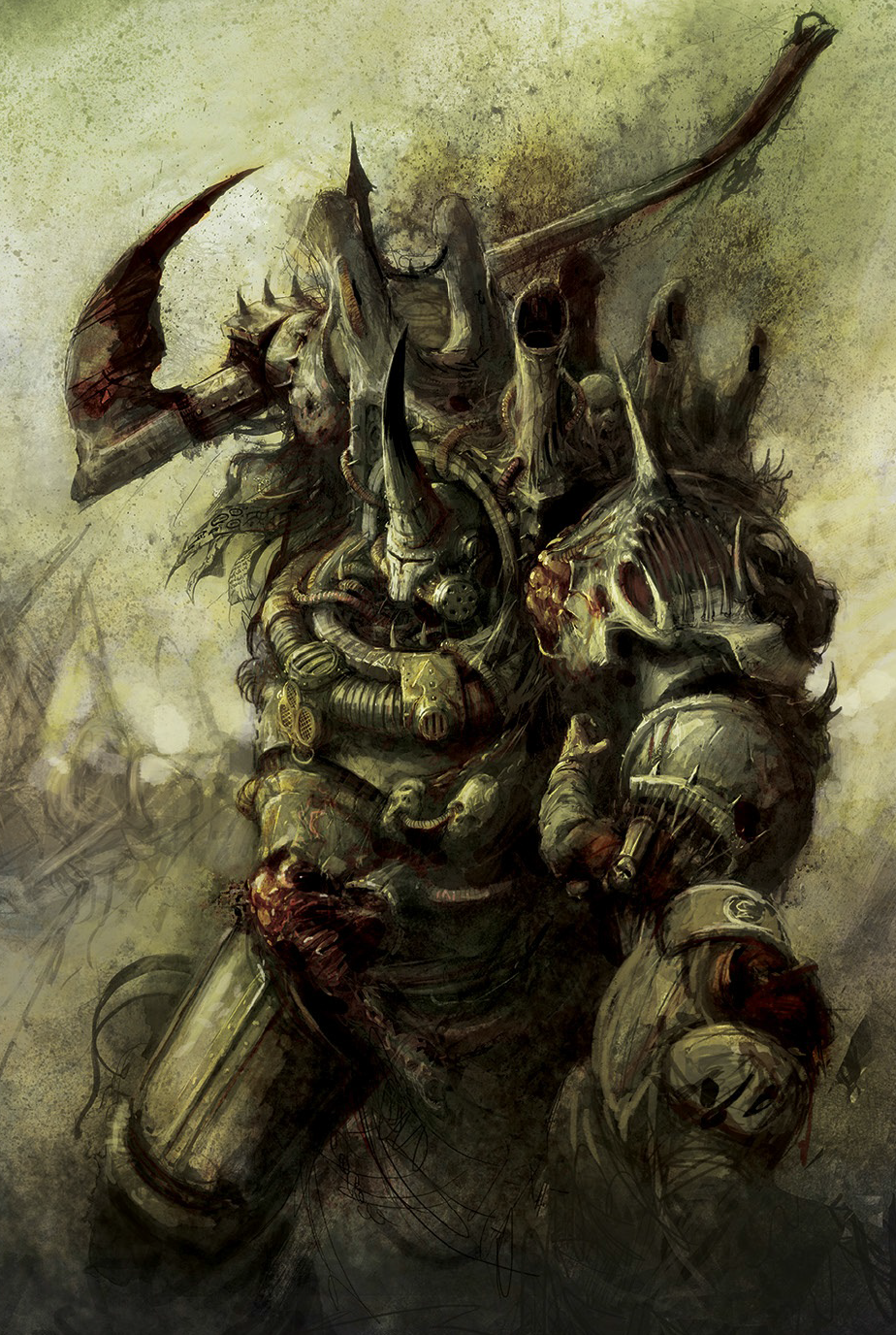 This guy.
Citadel Finecast did come out with a Chaos corrupted Typhus before, and you can see the similarities between the figures.

The sculptor at Forgeworld used this figure as a basis, and he made an excellent work.
Since the Death Guard is under the influence of the Lord of Decay, Nurgle, they are quite foul creatures. I tried to depict the beginnings of receiving the favours of this Chaos god might look like: the originally granite-grey armour got a yellowish sheen, representing a thin layer of filth, quite possibly excreted by the amour itself. He has made his first step in the path of corruption. I've also used transparent paints I use normally to simulate fuel stains on tanks. One brilliant thing I realized was that the usual problem with washes (namely the wash dries in a way that the pigments in the wash flow towards the edges of the wet area away from the cracks, which look bad if you use the wash to accent shadows) actually look pretty on-spot with Typhon -after all, his armour does excrete some foul substances, which will dry in patches on the surface.
Scratches in white, and white highlights helped to bring out the details; I've also used very thin dark washes to further enhance the whole oily-filthy impression. Most of the metallic parts were painted in dark, oxidated tin color, although not yet in the greenish hues of old, oxidated bronze. The edge of the Power Scythe was highlighted with light blue/white to represent the force-field; perhaps I should redo it in green to stick to the whole corruption/disease theme. (Blue is always a color of purity; glowing green, however, is usually reserved for containers of super-diseases and biological weapons in popular lore.)
To be honest, the base caused the most problems; I just could not get the colors right. I tried different greys to depict the broken concrete, but it just did not look "real". The breakthrough came when I realized that the "right" look can only be achieved using layers and layers of different grays and browns. I've kept drybrushing with different colors (metallic colors included at places), using different highlights, adding filters, washes and pigments; after about a month of working on it on and off, I decided it looked good enough to stop.
Well, here he is, striding into corruption, massacring loyalist forces with his arm-mounted flame-thrower/chemical weapon. (I think flames would be too "pure" for a Nurgle-champion; it must be some chemical contortion that melts metal as well as flesh. Whatever it is, it looks pretty cool, although I do suspect the short barrel causes some accidental drips onto his own armour now and then.)